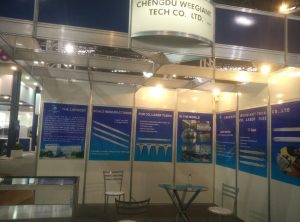 On July 21st -24th, Weeson Tech attended the Serigrafia Sign Future Textil 2015 as an exhibitor. The booth number is A14.
The Serigrafia Sign Future Textil is the largest advertising exhibition in South America. The exhibition has a history of 24 years and is held once every year at the Norte Exhibition Center in Sao Paulo, Brazil. The exhibition covers the two major industries of advertising and digital printing. This Serigrafia Sign Future Textil 2015 brought together more than 600 enterprises from all over the world to participate in the exhibition, attracting 40,000 professional buyers. During the same period, the exhibition dedicated more than 100 hours of professional technology sharing, thematic seminars, and presentations.
In this exhibition, Weeson Tech exhibited the company's CDWG series of CO2 laser tubes, and communicated with experts of laser industry.