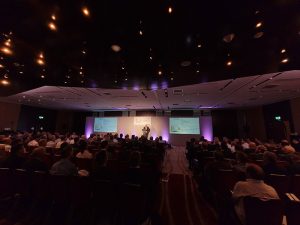 In partnership with the British Automatic Fire Sprinkler Association (BAFSA), the European Fire Sprinkler Network (EFSN) will host Fire Sprinkler International 2022 – a two-day conference at the Park Plaza London Riverbank on 31st May and 1st June 2022 providing an unmatched forum for knowledge and understanding of the sprinkler industry.
After two years of travel restrictions, commercial restraints and limited opportunities to network and interact personally the international sprinkler industry will descend on London and celebrate new horizons post COVID crises, forging new professional relationships, renewing old contacts and creating new business opportunities to increase growth and future resilience.
An intense and informative programme will be delivered by more than 50 speakers with plenary and parallel break-out sessions in the hi-tech and spacious surroundings of the Plaza suite. The outstanding two-day conference programme addresses the latest developments in regulatory requirements, standards and technology for water-based fire suppression systems as well as specific applications including heritage, warehousing and logistics, residential applications, alternative power, high-rise buildings and transport.